Ferengi Revolution Storyline
The stage was set when Ferengi Grand Nagus Zek, visited Quark on Deep Space Nine. He wanted to use Quark's bar for an important business meeting about the expansion of Ferengi business opportunities into the Gamma Quadrant. Quark had been recognized as a valuable and profitable member of the Ferengi Alliance.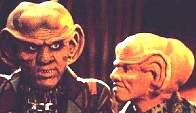 A year later, Quark was visited by Zek again and was chosen to be his Chief Negotiator on the Ferengi expansion into the Gamma Quadrant. One of Quarks waiters, Pel, warned him to be careful, because any triumphs would be credited to the Grand Nagus, but any failures would be blamed on Quark. Quark made Pel his personal assistant, who later revealed that he was really a female, and had taken advantage of Quark and Zek to prove that females were capable of earning profit. Quark's job as Chief Negotiator ended, and Zek never revealed to anyone that a female was involved the Gamma Quadrant expansion.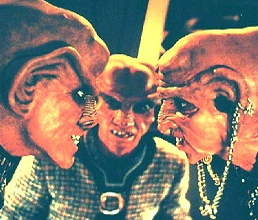 Quark and his brother Rom were called to Ferenginar (the Ferengi home world) because their mother, Ishka, was apparently earning profit. As the oldest male of the family, Quark had to get Ishka to confess, or his business licence would be revoked. She confessed, but secretly only gave up a third of her profits to the FCA, instead of everything, like she was supposed to. Ishka continued to secretly earn profit while Rom and Quark returned to DS9.
Rom, every bit the revolutionist, formed a union with the other workers at Quark's bar, and went on strike. They demanded higher wages, shorter hours, and paid sick leave. FCA liquidator Brunt appeared, and told Quark that he couldn't give into the union's demands, but had to stop the strike or face the FCA. Seeing no other way out, Quark secretly gave into the union's demands, and Rom quit the bar to become of the station's repair technicians. Around that time, Rom's son Nog also gave up the traditional Ferengi way of life, and became the first Ferengi to join Starfleet.

His illegal activities found out, Quark was blacklisted by the FCA and went to see his mother again, only to find that she and Grand Nagus Zek had become lovers. Brunt reinstated Quark's business licence in return for his having split up Ishka and Zek. The Ferengi markets suffered because Zek, old and forgetful, was unable to do his job without the advice Ishka had been giving him. Quark got them back together, the economy soared, and Zek maintained Quark's business licence regardless of the FCA.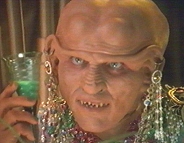 Ishka had convinced the Grand Nagus, Rom, Nog, and even Quark that females deserved rights to profit, clothes, travel, and free speech, but the next step was to also convince major Ferengi business leaders. Zek arranged a conference for various leaders of commerce to meet Ishka in order to convince them, but only one showed up. Ishka fell ill before she could talk to him, so Quark was surgically altered to look like female and took Ishka's place. Quark's brilliant performance convinced the business leader that if females had the same rights as males, it would expand the economy. In time, other business leaders would follow the example.
The revolution's momentum climaxed when Zek retired as Grand Nagus and appointed Rom as his successor. He and Ishka lived happily together for the rest of their lives, and deciding he wanted to avoid the revolution, Quark stayed on DS9 to run his bar in the traditional Ferengi way.
^ ^ ^ TOP ^ ^ ^